I remember when my dad brought home our first Mac SE back in 1986. He wouldn't turn the machine on until he had read through the entire user manual. He left the computer sitting powered down in the basement as he started diligently reading. I thought he was nuts. I immediately flipped the switch and started playing. In no time, I was clicking around and doing all sorts of great stuff.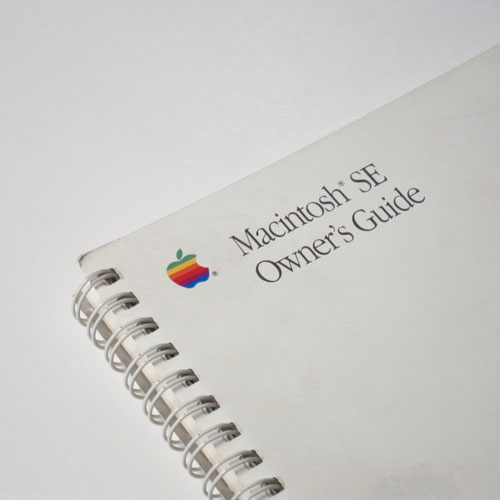 Mac SE User's Manual
We both eventually learned to manipulate this amazing new device. We just got there in different ways. And he often found shortcuts and other tricks that I didn't, because he had taken the time to go through the whole book and read about the finer details.
These days, you rarely see smaller app developers making user manuals for their products. "The app is so easy to learn" goes the thinking, "that documentation is no longer necessary." But we don't really subscribe to that theory at Bombing Brain. We know there are still lots of users who feel more comfortable when they have something to read.
Sure, maybe 80% of our customers launch the app and start playing around until they figure it out. But I keep thinking about my dad, and how he likes to "read the manual." He likes to make sure he knows every little detail about the way a thing works, so that he can feel certain he isn't missing anything. Should we be forcing these kinds of customers to tinker around uncomfortably instead? And should we be using the "it's easy enough to figure out" philosophy as an excuse to not bother writing up proper documentation?
We don't think so.
Writing good documentation is hard work. It's time that you could otherwise be using to write new software or squash bugs. So of course you want to be sure anything that takes so much effort is worth it. But we think it always is.
Early on we created user manuals for our Teleprompt+ products and put them on our web site for anyone to download. And we've maintained them with each new app update. What we've found is that this serves those who want to learn every nook and cranny of the app, of course. But it also works great as a marketing tool. Potential customers can see every feature in detail before buying. They can see our commitment to the presentation of our apps and to giving users the tools they need to get the most out of their purchase.
When Apple released iBooks Author earlier this year, we immediately thought it would be a great opportunity to make our documentation even better. This is a new format, a cool way to take what was a fairly static PDF manual and turn it into a more interactive guide. It displays beautifully on an iPad. And it's free for us as authors to use and for our users to download. Why wouldn't we make iBooks versions of our manuals?
Apple seems to think the same thing. Which is why you can find user manuals for many Apple products on the iBookstore, too.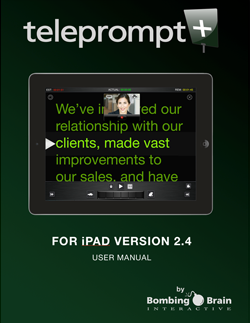 Starting now, you can get our manuals in iBooks format, for free, at the iBookstore. (See links below.) We're extremely happy with how these have turned out, and we look forward to updating them as the apps keep getting more and more powerful.
So if you have a copy of Teleprompt+ for iPad or Teleprompt+ for Mac, or if you're curious and you just want to learn everything there is to know about these apps before you buy, you can go to the iBookstore and get yourself a free copy. For those of you who don' t yet have an iPad, you can of course still download the PDF versions from our web site support pages. Not as interactive, but all the details are still there.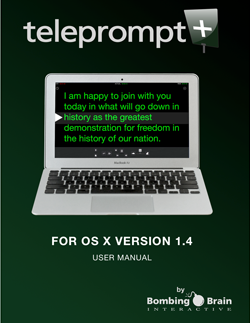 We're constantly looking for ways to improve the customer experience. If you download our manuals and have suggestions for how we can make them better, let us know. We love hearing from our customers.
Teleprompt+ for iPad User Manual (on iBookstore)
Teleprompt+ for OS X User Manual (on iBookstore)