Thanks to modern technology, the writing and recording processes are becoming more intertwined. Several years ago, we needed to work out the details of our songs for several months in a rehearsal space and then try to capture them all during the course of an expensive few days or weeks in the studio. Today, we can write our music in the home studio as we're recording it. This opens up an entire world of new creative possibilities.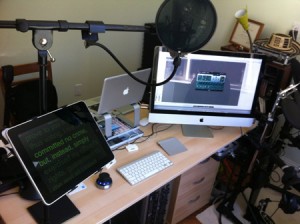 In my home music studio I use a variety of tools, including Apple's Logic Pro, virtual instruments like Guitar Rig for guitar sounds, and Toontrack's Superior 2.0 for drums. I also use a variety of hardware, I/O boxes, electronic drum kits, keyboard controllers, etc. Recently, I've begun integrating the iPad into the studio work flow as well.
One way I use the iPad is as a wireless control unit for Logic. No longer do I have to hit "record" and then run across the room to begin a drum track. Instead, I use AC-7 Core to mimic a traditional control console. I can start and stop the recording, change the tempo, and most importantly "undo" my mistakes, all without leaving the drum stool. So I can concentrate on my performance, rather than the engineering process.
Another way the iPad comes in handy during recording is for vocals. Before, my singer would come into the studio with sheets of handwritten notes for lyrical ideas that he had jotted down during the course of the week. Or maybe he'd have some basic lines typed out on his phone. These were fresh ideas, often in rough form, long before he had them memorized. He'd squint at his notes holding the paper or phone in his hands as he tried to work out the melodies he wanted to sing.
Now, with the help of Teleprompt+, he can import those thoughts (either via cut and paste, via his Google Docs account, or even our shared Dropbox folder), set the iPad onto his microphone stand with an accessory such as the iKlip, and comfortably read his lyrics with hands free in large type, advancing the lines at a comfortable pace. He can even make quick edits using Teleprompt+'s script editing tools as new ideas come to him.
Thanks to the recording feature built into Teleprompt+, he can also record preliminary melodies on his own while reading his lyrics. This is extremely helpful for those times when you have a great idea on the road but don't have a quick way to record it. Just hit the record button on the Teleprompt+ console, and you have it captured for playback. Refine the idea and record it for real in the studio later.
If you have a home studio, or you are a singer who needs to read new lyrical ideas while hammering out your melodies in the studio, you'll be surprised at how much easier it is to create great melodies when you don't have to strain your eyes just to see what you've written.