The iPad is a much better device to take to the stage than a conventional laptop. It's smaller and lighter than any laptop. It has no hinge to worry about. Its battery lasts long enough that you'd never have to worry about bringing a power cord. There's no keyboard to spill liquids into accidentally. With a simple accessory like the iKlip you can hook it up to a mic stand, rather than getting it some sort of dedicated stand. And it's cheaper than most laptops, so it's less of a liability to take it into such an active and potentially hazardous environment.
When we developed Setlists, we wanted it to be as appropriate for the stage as the iPad itself is. We wanted it to be an app that was meant for live performance. There was a lot to consider as a result.
Lyric Prompting
When we looked at the few lyric catalog apps on the App Store, we noticed that many of them, while perfectly nice apps, weren't really geared for the kinds of stage performances in which we most often find ourselves engaged. The lyric view for most of these apps looks like typewritten lyrics on white paper, with a small font that allows you to fit almost the entire song on one screen. Which is fine on a Saturday afternoon in the coffee shop, or at a small singing group performance, perhaps. But the stages we play on tend to be dark and are often large enough that we couldn't see such small text on a bright white background.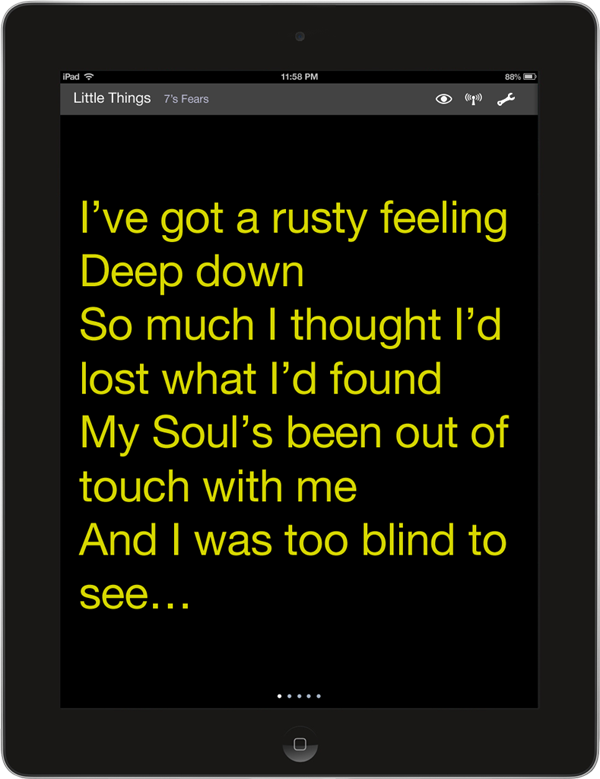 So our lyric view was designed to allow for the largest type possible, defaulting to bright-colored text on a black background, for minimal light leak to interfere with stage light shows.
You can choose several other color combinations, of course, including dark text on a light background, if that suits you better. And you can make your text rather small, if that works for you. But we believe most users will be happier with the way Setlists is set up by default.
We also offer a variety of fonts to suit your reading preferences. The goal is to find a combination of settings that works best for the particular singer's eyes. Again, the defaults will probably suit most users just fine. But you can change to meet your needs, and then save a personal default to apply to every song in your catalog. You want to be able to read very easily, even from the other side of the stage, if necessary.
Minimal distraction
Because you want to be focused on your performance and your audience, we set up the live views in Setlists to be minimally distracting. The app doesn't look flashy by design. The console for the lyric view with controls for moving to the next and previous songs is hidden by default. The the song title and artist is written in small type and can be hidden if you like.

Likewise, in the Set View, the focus is on the song titles. We wanted the titles to be easy to see from a distance, and the control buttons all along the top to be monochromatic and small, though not so small they'd be hard to tap while playing live.
Speaking of swiping, we also included many gestures for easy access to the most common features. Skipping to the next song, returning to the set view—many things can be done using a combination of finger gestures for easier controls.
Foot Control
We already talked about the foot pedal control in an earlier post, but you can easily see why it was an important consideration for taking Setlists to the stage. If you play guitar or some other instrument while singing, you need to be able to advance your lyrics without using your hands. Support for the AirTurn BT–105 is built right in.
Multiple Device Jam Session
Which brings us to the Jam Session feature. For professional musicians, it makes sense to sync up the lyrics between many devices, so that background vocalists are always on the "same page" as the lead. And for the rest of the band, why not have the ability to see the upcoming song titles, the lyrics, or both, while playing? And if you're a really big production, you probably have several off-stage technicians handling everything from lighting to special effects. You could easily assign one of these technicians as the "page turner" for Setlists.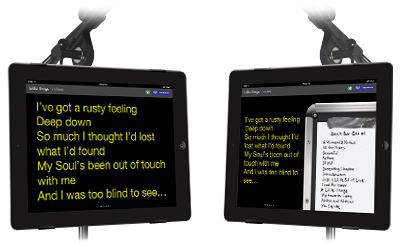 A lot of thought went into making Setlists a real professional performing musician's tool. And we're just getting started. We already have several new features in mind for future updates. (Version 1.1, coming soon, will add three major new features.) And we'd love to hear your thoughts as you are using Setlists at your own gigs. In fact, we'd like to feature your band on this blog, so if you have a story about how you are using setlists on stage, feel free to contact us at setlists@bombingbrain.com.
We hope over the coming months and years to make Setlists even more powerful, all while keeping it very easy to use.
If you want to learn more about all of the features of Setlists, visit the Setlists web site. From there you can watch our getting started video, or get yourself a copy of the user manual.