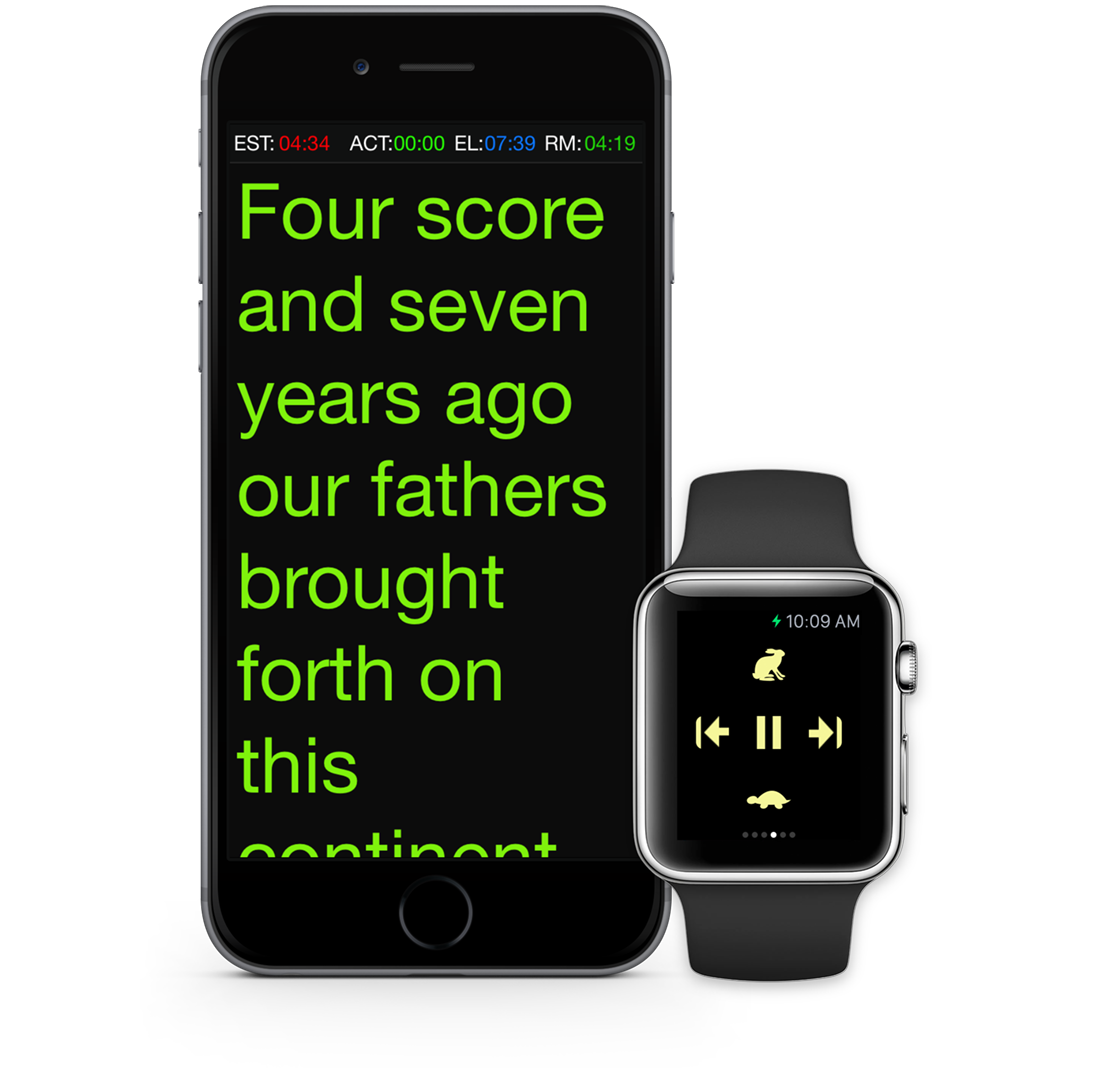 For a three-person company, managing resources is always the biggest challenge. When Apple Watch was announced, and with it the news that we'd be able to develop watch apps, all three of us were immediately excited, yet cautious. We're in the middle of a major new version of our app Setlists, along with developing new products, and we didn't want to get sidetracked with this new platform to the point where our other projects would suffer.
For Teleprompt+, the utility of an Apple Watch companion app made sense immediately. We already have a remote feature that allows you to control your devices with another iOS device or Mac. Why not control teleprompting with your Apple Watch as well? While it's unlikely that major video production houses would want to swap a full-sized Mac for a watch while controlling their prompting, for a one-person shop making scripted videos, being able to stop and start with a tap on the wrist might be very appealing.
The question was "when would we get the time to do it?" Fortunately, one of our engineers, Tim, decided to play around with it, out of curiosity, in his spare time. (Yes, when he's finished coding for the day, Tim likes to unwind by doing more coding. And we love him for it.) Within a few hours of his spare time over a couple of days, he had a decent prototype functioning in the iOS Simulator. You could start and pause the prompting, adjust the speed, start and stop recording, and jump to cue points. He even had the idea of swiping to different screens with different sets of buttons, so that if all you wanted was a big play/pause button that you could press without looking, you could have that. Or, if you just wanted play/pause and speed controls, or play/pause and cue points, etc. Lots of flexibility in a very simple little user interface.
As soon as he showed us the working prototype, we knew we could probably get it completed in time for the Apple Watch launch in April. It was just a matter of polishing it up a bit. (Famous last words, right?) Some new graphics, lots of testing, one or two additional features, and we would be ready to go. All while continuing to work on our other projects.
And the best part is that development of this little Apple Watch app inspired us to work on a new, simplified version of our iOS remote control for Teleprompt+. So even people who don't get an Apple Watch will still benefit from the time we spend on it. (Look for the return of our standalone, free Teleprompt+ remote app soon.)
Overall, we were surprised at how much simpler the actual act of coding for Apple Watch is. Because the current SDK is so limited, there really isn't a whole lot you can do. And that's a good thing. The challenge is keeping yourself from attempting crazy features that stretch the limits of the device's core simplicity. Apple Watch apps are meant for quick interactions, not hours in front of the screen. And they are meant to compliment the apps on your iPhone.
If all goes according to plan, Teleprompt+ on Apple Watch should be available very soon. We are submitting it to Apple for review today. The 3.1 update will also be addressing some of our most commonly reported bugs and feature requests on the iPhone and iPad. See the release notes for more details when it arrives.
Teleprompt+ for Apple Watch Features:
Control the prompting on your iPhone using Teleprompt+ 3 for iOS
Control prompting for multiple devices, including iPads and Macs[1], from an Apple Watch connected to an iPhone running Teleprompt+ 3 for iOS in remote mode
Five screens of controls, to suit your prompting needs

play/pause only
play/pause and speed controls
play/pause and cue point controls
play/pause, speed, and cue point controls
recording controls

Access your groups and scripts to change scripts from the watch
---
Mac control requires Teleprompt+ 3 for Mac, sold separately. All iOS devices connected in the remote session must be running the latest version of Teleprompt+ 3 for iOS.  ↩