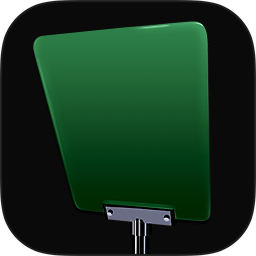 Today we want to take a few moments to talk about our flagship product, Teleprompt+. We're extremely proud that Teleprompt+ has been the number-one teleprompting solution on the App Store since its debut nearly four years ago. And we're grateful to our customers for making that possible. Lots of competitors have come along, but professionals continue to choose Teleprompt+ as the best tool for the job. Whether used by video producers, lawyers, public speakers, senators, preachers, or everyday people who just need to give a talk in front of an audience, Teleprompt+ has always blown the competition away in usability, features, and customer service. And as our customers no doubt know, we've worked harder than anyone at staying ahead of that competition by adding tons of new features and making under-the-hood improvements on a consistent basis.
But four years of steady additions and changes take their toll on any piece of software. Making all of those changes one at a time over several years—eventually all of that tinkering adds up inside the app, bogging it down and making it harder and harder to maintain. For this reason, we've decided to take this opportunity to rethink our application from the ground up—to figure out what is still working and what needs to be updated, removed, or replaced.
And so we opened up a brand new blank project file, and we started all over again.
That work began several months ago, and we're happy to report that we're close to finishing the best version of Teleprompt+ ever. A cleaner interface, a better foundation for smoother, more reliable performance, and some of the most long-awaited new features.[1]
This will be a better application in every sense of the word, both under the hood and on the outside, as you use it every day for your professional needs.
In order to move forward into this brave new world, however, we've had to make some hard decisions and leave behind some things that were holding us back. For this reason, Teleprompt+ 3 will require iOS 7. According to Apple, already over 85% of the iOS-using world has upgraded. But we know that some of you are holding on to those older iPads in your studios and don't have the means or need to update or replace them. This made the decision harder for us than for many other app developers. Still, once we evaluated the technologies in this latest iOS version, we realized that iOS 7 offered us the only way to add some of the most requested features we've been dying to introduce for a long time. We needed to move forward to serve the majority of our customers best and to make Teleprompt+ as good as it can be.
Those who are unable to use the new Teleprompt+ 3 for whatever reason will still be able to use the last version of Teleprompt+ 2—the app will continue to serve you as long as you keep that older device running, and you will be able to download it from your purchased apps list if you ever accidentally erase it from your device. We've worked hard to make sure that this current version is reliable, even on the latest version of iOS 7, and it will continue to serve you as well as—if not better than—the day your purchased it.
Another change we've made is to abandon our previous strategy of offering separate iPad, iPhone, and free Remote applications, and instead combine all of that functionality into one universal app. Anyone who purchases Teleprompt+ 3 on his or her iPad will be able to download the full version on the iPhone or iPod touch at no additional cost and use it either as a standalone application or as a remote control for his or her other devices.
And that brings us to the final point. What will it cost? We've weighed this decision for many months and studied every possible way to best present this new version to our customers. Many of you know that the App Store does not allow us any way to offer a simple upgrade price to current customers only. We also can't combine the iPhone and iPad versions into one universal application without causing confusion and forcing at least some of our customers to pay to migrate. So we've decided to offer all of the new features of Teleprompt+ 3 in a single, new, universal application, which we will offer at a special price for a limited time at launch. Previous customers who act quickly can take advantage of this opportunity to get all the benefits of Teleprompt+ 3 at the best price it will ever be available.[2]
If you have any questions about our plans for Teleprompt+ 3, feel free to contact us via this link. And let us know if you'd like to be added to our mailing list, so you can be among the first to get your hands on Teleprompt+ 3 as soon as it arrives. In the meantime, we'll continue to post some sneak peaks here on our site and elsewhere. We hope you'll be as excited about this release as we are.
Thanks again for making Teleprompt+ the number-one solution for teleprompting on the App Store. Together, we're going to take teleprompting on the iPad to new heights.
---
Rich text in scripts, quick editing of scripts while prompting, and a completely revised workflow for easier, more reliable remote control of several devices at once—just to name a few.  ↩
The Mac version of Teleprompt+ will also be upgraded to become compatible with the new iOS version 3. This Mac upgrade will come at no cost to current customers of the Mac version. Any previous Teleprompt+ users will be able to migrate their scripts to the new Teleprompt+ 3 application via a simple set of instructions, to be provided at the time of launch.  ↩