We are happy to announce that Teleprompt+ 2.0.2 has been released.  The ability to export audio recordings has been added to this version.  We were originally hoping to have this in the 2.0 release but technical issues made it impossible. Over the past month we looked into it and got it functioning.
The old version of Teleprompt+ (2.0.1 and earlier) recorded the audio in an Apple Lossless format which should play fine in iTunes but for some reason they didn't. This was why we didn't enable the export of audio before.  In this new version any new audio you record is saved in an m4a format which plays just fine in iTunes but old recordings are still in the Apple lossless format. So the question remains – how do I get my old recordings to play on my PC?
It's a not a great process but it should get your audio extracted and in a format that you can play easily.  These directions are for OS X. For windows users I would use a application such as Advanced MP3 Converter which should be able to convert your files to many formats.
How to export and convert old (verisons 2.0.1 and earlier) Teleprompt+ audio recordings
1. Plug your iPad/iPhone into your computer (if it's not already)
2. Open iTunes and select your iPad/iPhone from the menu on the left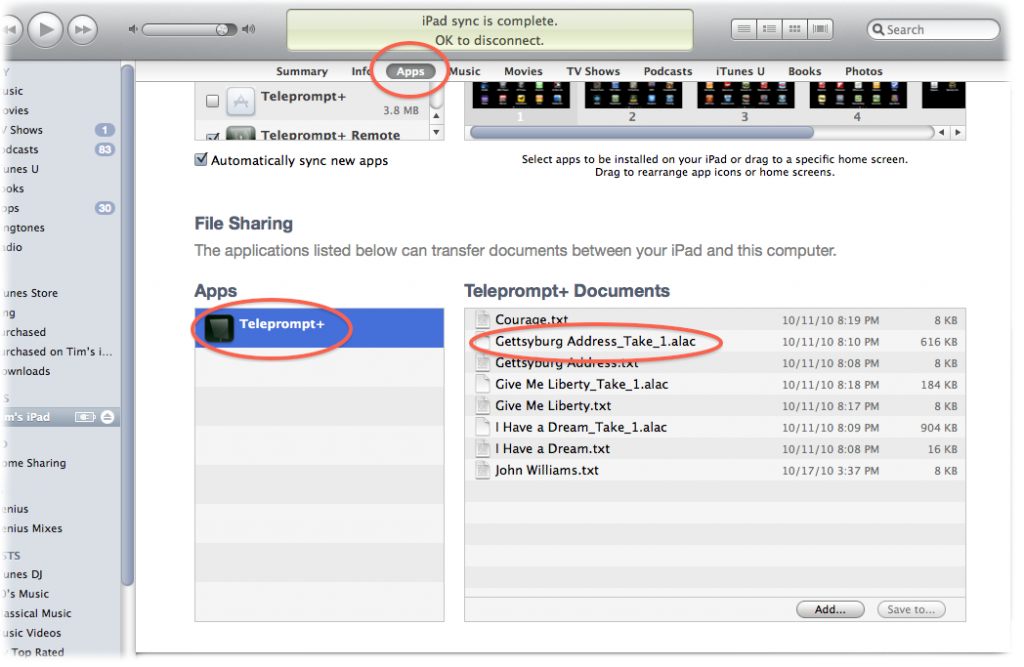 3. Tap on the Apps option in the menu bar across the top (see screenshot above)
4. Then scroll to the bottom of the large content area until you see the "File Sharing" section
5. Click on the Teleprompt+ app and you will see a list of all your scripts and audio files on your device
6. The files with the .alac extension are the older audio recordings.  So find the one you want to export. Click on it and select the "Save to…" button
7. iTunes will then present you with a dialog of where to save it. Save the file anywhere on your computer but remember where you put it. For this example we'll use the Desktop.
8. Open the Terminal app. This can be found under Applications, then the Utilities folder and double click "Terminal". This will open a small window with some text and a blinking cursor.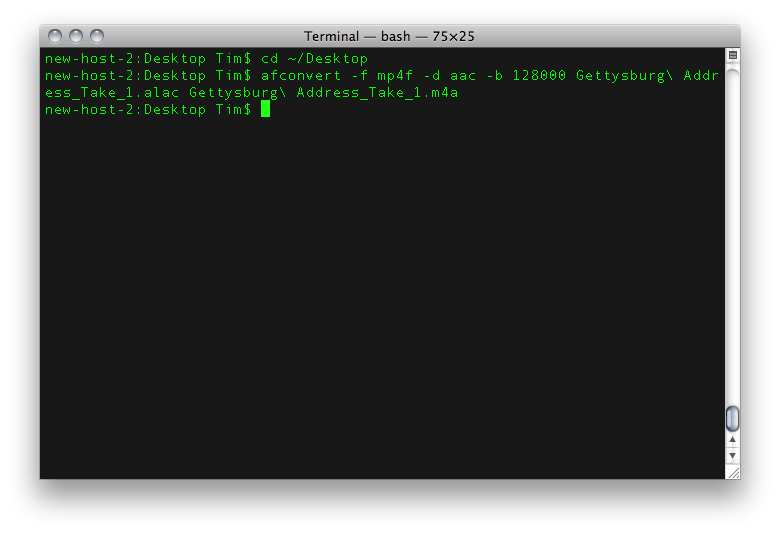 9. Type the following into the window to make sure you are working in the correct folder:
cd ~/<Whatever folder path you saved the file to> (for this example: cd ~/Desktop)
10. Type the following into the window (replace <> and text in between with the name of your file without the extension. And note the backslash (\) in the screenshot above if your file name has spaces in it):
afconvert -f mp4f -d aac -b 128000 <NAME OF YOUR FILE>.alac <NAME OF YOUR FILE>.m4a
11. The file should now be in the same folder as the original file with the extension .m4a and this you double click and it should play in iTunes or your default audio player
I understand this a cumbersome process and if you have any problems or questions please email us and we'll help you out.  The good thing is that this is only for older recordings. Any recordings you make with the new version (2.0.2 and higher) are already in a compatible format and no conversion is necessary.