One of our biggest hopes when we launch any new app is that we'll get the opportunity continue to work on it, improve it, make it more powerful. Knowing that no app can ever truly be complete at 1.0, we look forward to adding more over time and bringing even more value to our customers.
And so we were very happy yesterday to release the first update to our newest app, Setlists. It's a relatively minor update, but it does include some of the top-requested features from all the singers out there using our app to prompt their lyrics on stage.
Print a Set or Song Lyrics
You might not think of printing things out on paper when you think of the iPad. Part of the reason we made Setlists in the first place was to avoid having to bring paper up on stage with you. But the reality is that not everyone in every band has an iPad yet. So we wanted an easy way for the Setlist creator in the band to make extra paper copies of the sets for everyone else. Using the built-in drivers from iOS, Setlists can print any set you create, on US Letter, US Legal, or A4 sized paper. You can shrink the font size to make the entire set fit on a single page, or make it larger so it's easier to read from a distance. You can also print the lyrics to any song in your song catalog, if you need an extra paper copy for a second vocalist who doesn't have an iPad. A wireless, iOS compatible printer (and some paper and ink) is required.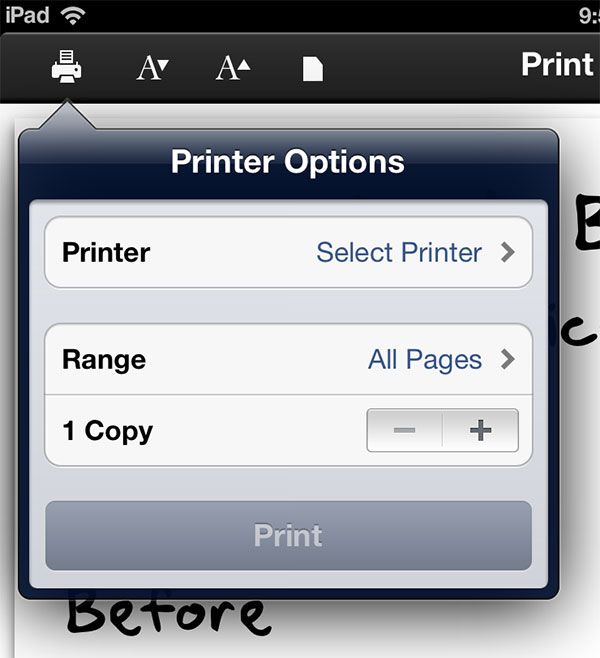 Email a Set
If you want to run your sets past the other members of the group before the gig, or if you want to allow your bandmates to print their sets from home, you can now email a set to anyone right from within the app. The set will arrive as a PDF attachment, so it's easy to print or store on any computer.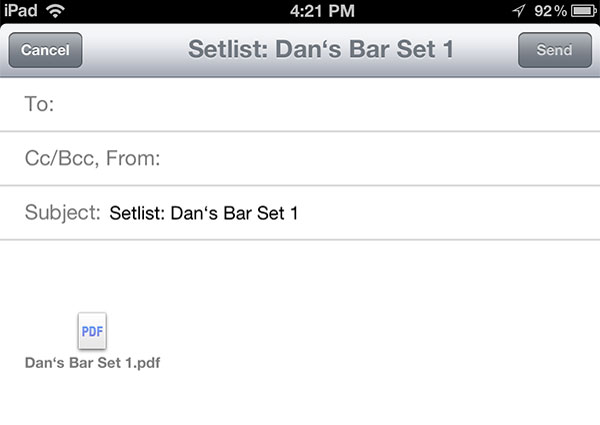 Duplicate Sets
I like to mix the sets up when I'm gigging on a regular basis. At the same time, I know when I've put together a set that really works, I sometimes just want to take it and make a few minor changes for the next gig. Duplicating a set in Setlists 1.1 makes that a lot easier. Just take any existing set, tap and hold on its preview in the Setlist Chooser view, and a popover will appear. Tap Duplicate, and a new copy of the set will be created, allowing you to tweak it without touching the original.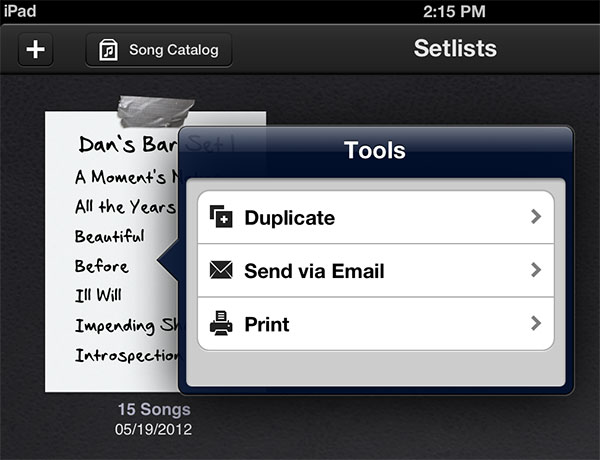 All of these changes were suggestions from our users. We love getting feedback on our apps, and we want to make sure when we're adding something new that we take our users' needs in mind. We can't add every feature people request, of course, but we do try our best to work in the ideas that make the most sense for the most people, while still maintaining the spirit of what the app was created to do. We think these three new features make fine additions to the song catalog management and lyric prompting experience. And we're already at work on the next revision, which will add even more.
As always, you can find out more at the Setlists web site.