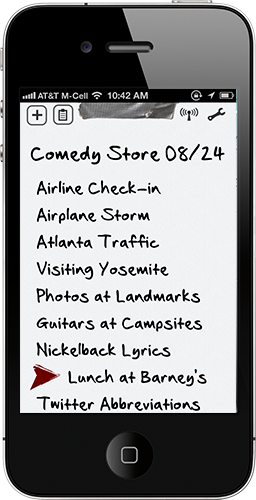 Comedy is the one gig that's even harder than music. Night after night, getting in front of that crowd, alone, trying to juggle people's sensitivities, dealing with hecklers—and all the while having to keep track of material on your head. It's one of the most nerve-wracking and torturous things a human being can do to his or her own ego.
If you're out there doing the work, trying to "build your clown" as Marc Maron would put it, thanks. The world needs more of you. And while we can't help make the Saturday night crowd better, and we certainly can't help you produce the funny, we thought maybe we can help with the remembering the material part[1].
Setlists, our app for organizing song lyrics and arranging catalogs of songs into sets, makes for a great way to organize a comic's notes and sets too. Now that we just added iPhone and iPod touch support in our latest release, we think Setlists is an even better tool for comedians. Maybe lugging an iPad up on stage seemed a bit over the top for a comic, but now you can just pull your phone out of your pocket to consult your notes.
Setlists was built for quick access and easy editing. You can arrange your set and make fast changes just before heading up on stage. You can even move your bits around easily while you're performing with a few taps. Want to move the airline chunk to the end of the set? Just tap edit and drag it down. Need some notes to jog your memory about a particular bit? Just tap on the title, and you can see your notes in easy-to-read large letters on the screen. Got a few more minutes than you thought you had? Drop out of the set and into the catalog, then pull up one of your other bits in a few seconds.
Never again will you lose that brilliant idea when you're out and about. Just open up Setlists, add a new premise, and jot down a few notes. It'll be in your catalog for later refinement. When it's ready to try out on stage, add it to the set. After the set, refine your notes based on what worked and what didn't. And the best part: it's all in your phone, not scratched out on several pieces of paper you keep misplacing in different pockets. All of your notes about all of your material in one place.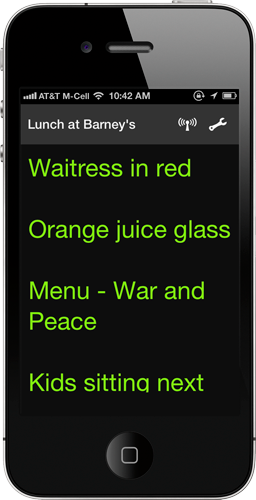 We think Setlists makes for a great comic's tool. And we'd love to hear from comics so we can make improvements to meet their needs even better. Drop us a line at support@bombingbrain.com and we'll be happy to add your ideas to our growing list of possible new upcoming features.
---
Full disclosure: When we designed our Setlists app, we were thinking mainly of musicians. But a few folks have since suggested to us that Setlists would make a nice organizational tool for comedians. And we think they're right. We're certainly going to keep improving Setlists with comedians in mind moving forward.  ↩