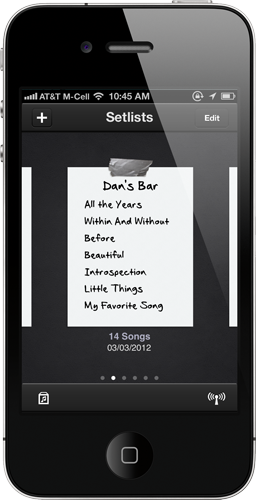 Setlists has just hit another milestone with the release of version 1.2. This update adds support for the iPhone and iPod touch, making Setlists accessible to millions more devices worldwide. And since the app is universal, those who have bought or buy Setlists for their iPads get this extra compatibility for free.
So if your bandmates don't have an iPad to join in on your Jam Sessions, now they can use their iPhones or iPods touch to do it instead.
As anyone who has ever done it knows, converting the experience of an iPad app to the smaller screen of an iPhone is no small task. We held off on releasing this version until we had tweaked the user experience for several months, making sure that Setlists on the iPad's smaller siblings was no less powerful and yet just as easy to use.
In addition to new device support, we've also been hard at work squashing bugs and improving stability. Bluetooth Jam Sessions, in particular, should be much more solid now. And the slowdowns during long editing sessions should be a thing of the past as well. Thanks for all your help with bug reporting. We do take every report seriously, and we try to find solutions to problems as quickly as possible.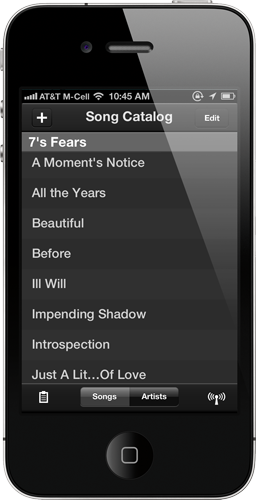 And there is a lot more coming soon. We're hearing all your great suggestions and putting them to good use. (Auto-advancing text, anyone?) Look forward to seeing even more great things for Setlists in the future.
As always, let us know what you think by visiting our contact page on bombingbrain.com. We love hearing your feedback.