Update, April 25th, 2012: After an overwhelming response to this article on lyric prompting on stage, we decided to create a special lyric prompting app, called Setlists, tailored to the specific needs of musicians. You can read all about Setlists here.

I have a great musical memory for chords, phrases, even melodies. But when it comes to lyrics, I have the hardest time remembering what comes next. Especially during the many years when I was playing in various cover bands, I often had to sing lead on up to thirty or so songs a night, none of which were my own. I tried writing myself "cheat sheets" with the first few words of each line scribbled down with a sharpie, but inevitably, I'd end up spilling a drink or stepping on my sheets at some point. And no one wants to watch a singer who is looking at his feet all night.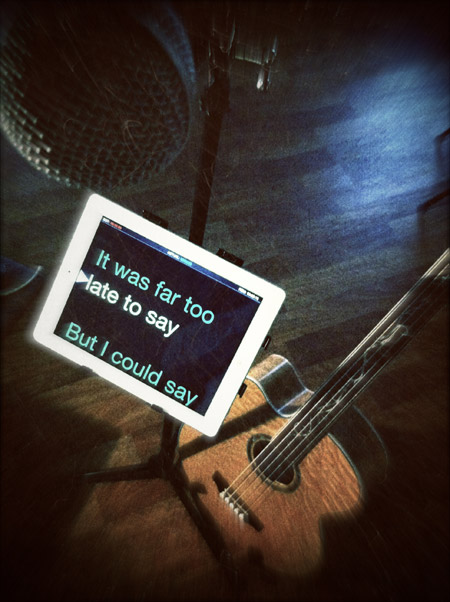 So when the iPad was released, one of the first thoughts I had was that this new device would be perfect for me as a singer. I was always a bit nervous about setting up a fragile laptop anywhere on a cramped stage in a bar, but with the iPad and a nifty accessory like the iKlip, I can fairly safely set up an iPad on my mic stand, putting it within easy range of both my eyes and my hands.
This has opened up all sorts of new possibilities for musicians, of course, as anyone with an iPad who has browsed the App Store could tell you. From great little apps like Guitar ToolKit for tuning, chord charts, etc. to sheet music apps like Tab Toolkit for reading music on stage, to full blown guitar amplifier simulators like Amplitube and Ampkit, and new and exciting synth instruments like Jordan Rudess' MorphWiz. The iPad is a gold mine for performing musicians who want to explore new ways of making live music.
iPad is the perfect tool for guys like me who for whatever reason can't remember lyrics to save their lives. I just fire up Teleprompt+ whenever I have to sing a song, and the lyrics magically scroll across my screen, in a very comfortable font size and style.  And because the iKlip keeps my iPad up high, I can keep my eyes on the audience as I sing. They have no idea I'm reading while I'm singing. It's truly an amazing tool for any singer with a large repertoire of songs.