I'm not encouraging anyone to go out and break any laws or anything like that, but I think its important sometimes to understand that to be successful and stand out, you have to break from what is considered the normal path.
I was on that path. Before Bombing Brain, I had a fairly good career. After college, I took a good starting job in information technology (IT) at a pretty good company, and started on the typical corporate IT career path. It goes something like this:
Graduate college, work a few years and climb your way up a few of the dozens of pre-defined career levels.
At some point, go back to school for the now almost obligatory graduate degree.
Get your graduate degree, then either move up the ladder into middle management, or switch to another company for a moderate pay raise and a job in middle management.
Spend the remainder of your career in middle management, and just as you are about to break into the executive level, receive your "early retirement" notice.
Sounds cynical, and I know this is not how all technology careers go, but I've seen quite a lot of it. I remember clearly when I started my career that a lot of the people above me, former managers and mentors alike, seemed really successful. They had nice homes and nice cars, and at the surface level were living the American dream. This is where the "rules" started to appear. Here's just some of them:
Work hard and people will notice you
Work long hours and your job is secure
Work your way up the ladder, and one day you might even be CTO
Going into business for yourself is a huge risk
If you do go into business, never go into business with friends
Great advice, except that its wrong
All of the above rules seemed to make sense to me originally, but then something interesting happened as I got older. I witnessed some of the brightest, most intelligent people I've ever known get passed over for people who lacked any substance at all (rule #1 false). I worked 15 hour days and received nothing to show for it except a pink slip (#2 false). I saw excellent, experienced managers get passed over for the vice-president's golfing buddies (#3 false).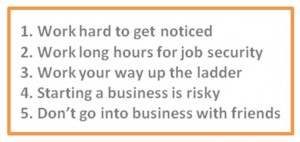 It didn't take too long for me to notice all of these people I originally wanted to be like were not what they seemed. Looking closer you could see they were tired, frustrated, and had sacrificed a lot of their personal lives in pursuit of their careers, with not that much to show for it – a moderately successful life at best (more like "mediocre" if you ask me).
Then there were the nay-sayers, some people who tried their own businesses and failed, but by far mostly people who just never tried. "Its too big a risk" was advice I believed for a long time. The reality is its no more risky than working for a company that ultimately cares more about the bottom line than your job security (#4 false).
"Never go into to business with friends" – that's a good one. Makes a lot of sense on the surface. In fact I avoided it for over 15 years on account of that rule. But then it hit me, nearly all the people who had ever given me that advice were bitter, selfish people who had major trust issues. So of course that's good advice – for them, but not me.
The bottom line is, you need to do what is right for you based on your level of trust with the other individuals. For me, I would rather go into to business with people that I trust like brothers and take the chance it may sour. The opportunity for success outweighs the risk (#5 false).
So, I took that risk, and formed Bombing Brain with some of my closest friends. I couldn't have even started any of this without them. So far its been worth it.
Trust your gut, break the rules, and follow your own path.