If you're in a band with a huge repertoire, you need robust and simple songbook management from your lyric prompter. We had added groups and manual sorting to our Teleprompt+ app, but we quickly suspected that for Setlists we needed a very different approach to file management. Singers would need to handle many more files than your average public speaker. Most public speakers give one speech in a day and keep maybe three or four in his or her repertoire at a time. True, some non-musician Teleprompt+ users need a large number of scripts, but a musician in a wedding band could easily have 200 or more songs to manage.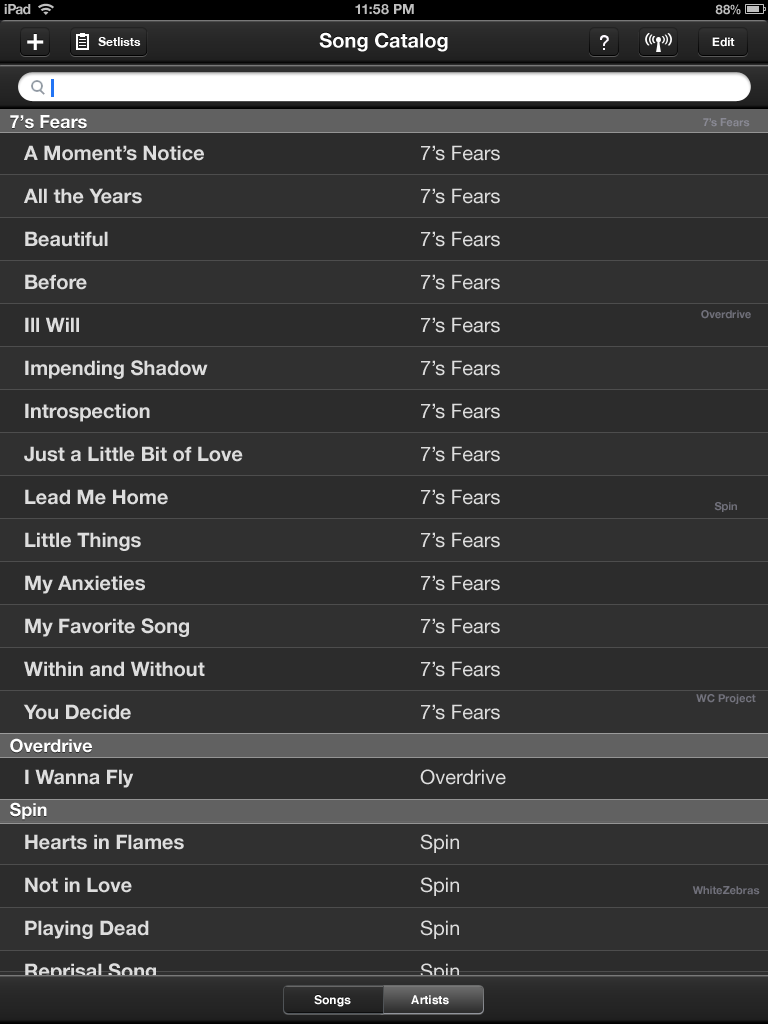 The Song Catalog
And so the Song Catalog was born. Flip into Song Catalog mode, and a list of your whole repertoire takes over the entire iPad's screen. From here you can scroll through the master list, sort it by song title or artist, and quickly search for a song by entering the first few letters of the song title or artist name.
Even if your band works from pre-determined sets, you sometimes have to jump to a different song than you had planned. If you improvise your sets or like to take requests, you have an even bigger need to be able to access songs quickly in a live situation. (Contrast this with most of our Teleprompt+ customers, for whom a single script is the session. For a live musician, song after song would be performed in sequence as the norm, not the exception to the rule.)
The Song Catalog accommodates this by giving you one-tap access to any song. It defaults to live prompting mode on that tap, so there's no need to "start" or "stop" the prompting. When you are finished a song, simply close it with a pinch (or tap the exit button) and you go right back to the catalog, ready to select the next song.
When you're preparing for that next gig, and you do want to work out the sets in advance, the Song Catalog is a great place to start. Tap edit on the top right, select the songs you would like to add, then tap the Add to Setlist… button on the bottom right. You can start up a new set from scratch, or add the selected songs to an existing set. You can even add the songs to multiple sets at once, in case you're working out variations of your sets for several gigs in advance.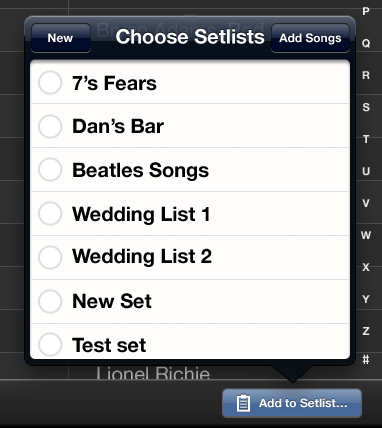 Sets are like playlists in iTunes; they need to be independent subsets of the catalog, not folders full of files. The Song Catalog in Setlists needed flexibility that went beyond the groups function in Teleprompt+.
When designing the Song Catalog, as with everything else in Setlists, we focused on live performance as much as possible. Moving from song to song needed to be easier, finding a song needed to be easier, even adding and deleting songs needed to be quick and easy, as last minute changes are a frequent reality in the life of a performing musician. We wanted Setlists to get out of the way and let you focus on the performance, not the technology. We hope we succeeded, and we're always looking for ways to make it even better.
If you're enjoying using Setlists, let us know. If you think you have a suggestion for how to make it better suit your needs, feel free to contact us on our web site or on Facebook. We can't make every request happen, of course, but many of the new features we're working on already for the next version came from our users.
And if you're using Setlists on stage, let us know about that, too. We'd like to feature some groups using Setlists on this blog.
As always, if you want to read more about Setlists, you can get all the information you need from the Setlists Web Site, including the user manual and videos of the app in action.