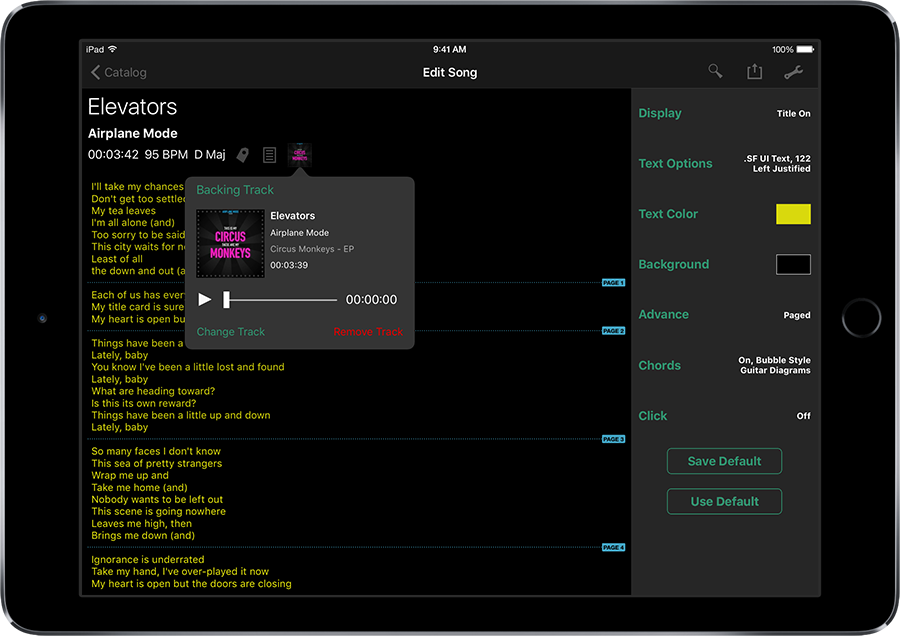 We are happy to announce that Setlists 2.1 has arrived in the App Store – our first major feature update to Setlists 2! With great new features including the ability to play backing tracks with your songs, and a new click feature to keep you on tempo, Setlists 2.1 will be your ultimate live performance companion. Upgrade today, or if you haven't tried Setlists yet, the app is free to try - download it today!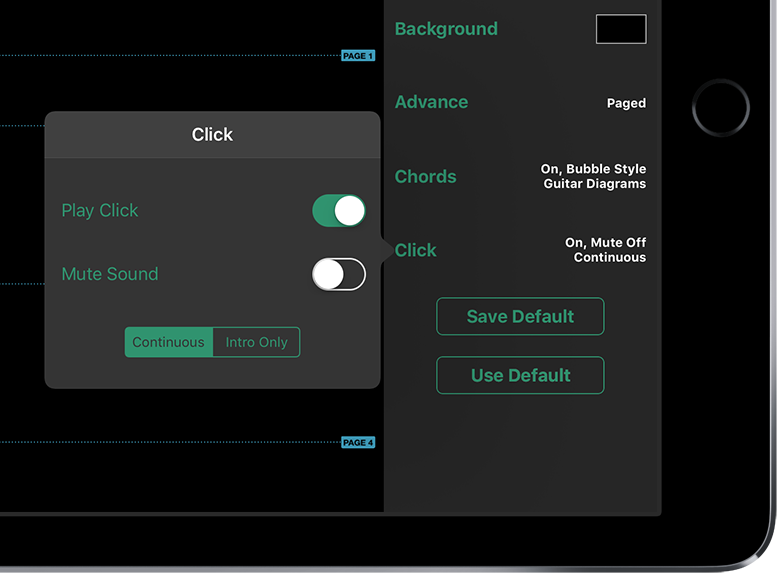 New features in Setlists 2.1 include:
Backing Tracks!
You can now select a track from your iTunes Library or Apple Music to play as a backing track for a song. The track can be played while viewing your lyrics in live mode. Perfect for artists who perform along with backing tracks or just for rehearsing. Setlists can also optionally update the song's title, artist and duration directly from the track.
Metronome / Click Track!
Songs can now have a click associated with them to keep you on tempo. Simply set a tempo by setting the song's BPM, then turn on the new click feature. While in live mode an indicator will blink giving you the tempo. Songs can be individually configured to have the click be audible or muted. You can also configure the click to be continuous or intro-only (the first few beats for each song). In addition, new global options allow you to choose from 5 different click sounds, configure how the click indicator appears (dot or flash the title bar), and how many beats are allowed for intro-only click tracks.
Soft line-breaks:
You can now insert a "soft line break" in the editor. This will allow you to add blank lines between lines/phrases which are not interpreted as page breaks in paged mode.
Multi-tasking / Split-view support:
If you have an iPad Air 2 or iPad Pro, Setlists can now be run side-by-side with other apps using iOS 9′s new split-view feature.
Explore before you buy
Setlists 2 is free to download for everyone. Explore around the app and try the features that make Setlists the best choice for live performers. Most of the app's functionality will be available to try free on a limited basis. When you are ready to add Setlists to your performing workflow, one simple in-app purchase will unlock all of the app's unlimited potential.