Today we launch Setlists 2.0, a massively overhauled and feature-filled update for our popular lyric prompter and song catalog organizer.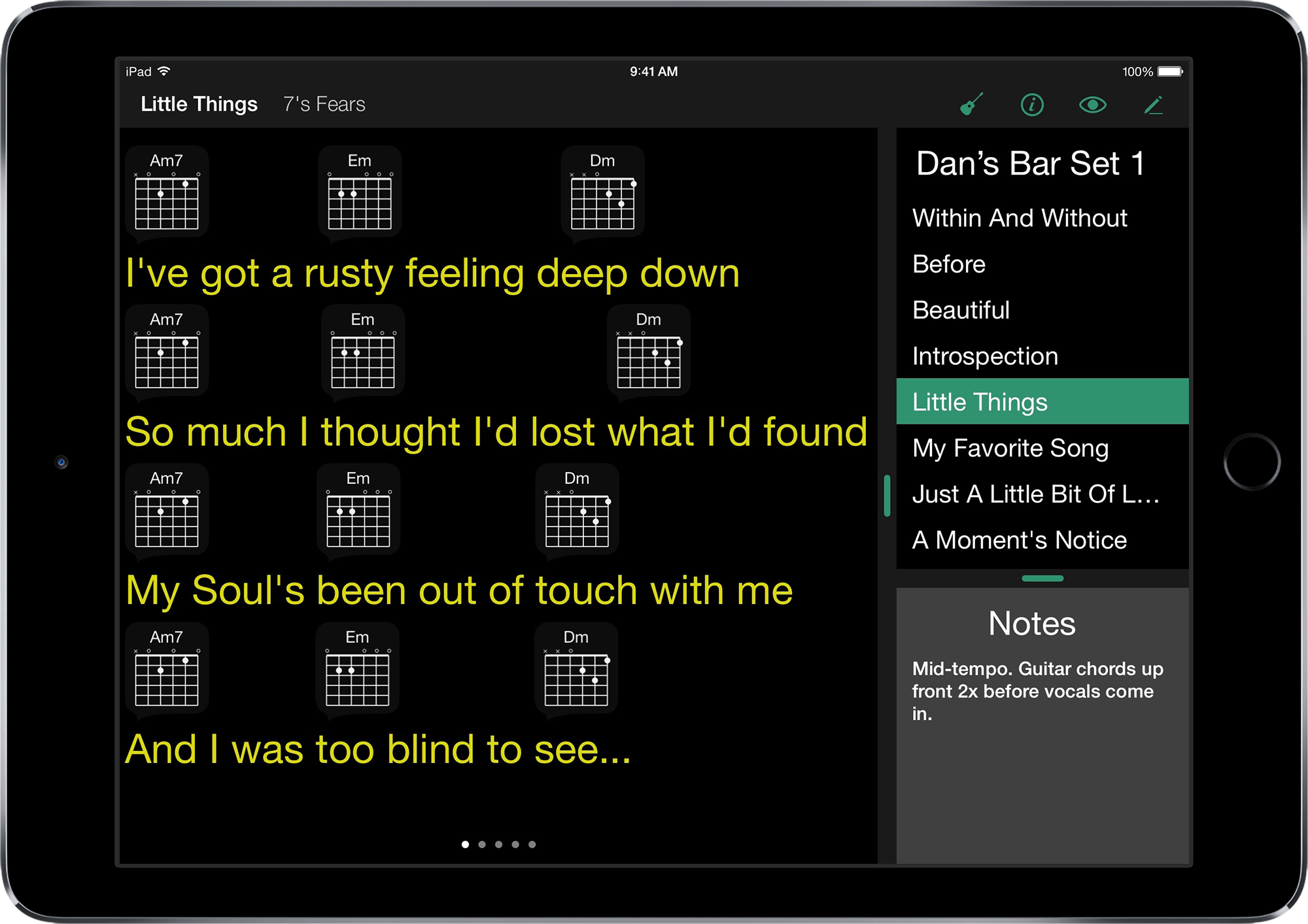 We refined the entire user interface, using all the latest technologies on the platform to provide the most seamless experience, no matter how big or small your screen. We added all of our most requested features, including chords and chord fingering charts, the option to scroll text, export capability, rich text formatting, .docx and .rtf file support, ChordPro format recognition, sync between all your iOS devices over Dropbox or iCloud, automatic backup of your catalog, and much, much more.
We also simplified the Jam Session feature, making it easier than ever for the whole band to stay in sync during live performance.
Last but not least, we've made Setlists 2.0 free to download and try. So everyone is free to take the app for a spin and see how it suits their needs. If you like it, one simple in-app purchase of the Pro Upgrade will unlock all the limitations of the free version. Unlimited sets, unlimited songs in your catalog, unlimited Jam Sessions, and backup/sync of your song catalog.
If you were a Setlists 1 user, don't worry. We haven't forgotten about you. Update your app to 2.0, and all the features of the Pro Upgrade will be unlocked for you, free of charge. It's our way of saying thanks for your continued support.
This update is the result of over a year of hard work for the entire Bombing Brain team. And we could not have done it without the support and feedback we've received constantly from our many users. Thank you, and keep the suggestions coming. We trust you'll think it was worth the wait.
There's never been a better time to catalog your repertoire, prompt your lyrics live on stage, and keep everyone in sync. Download Setlists 2 today and perform like a pro.