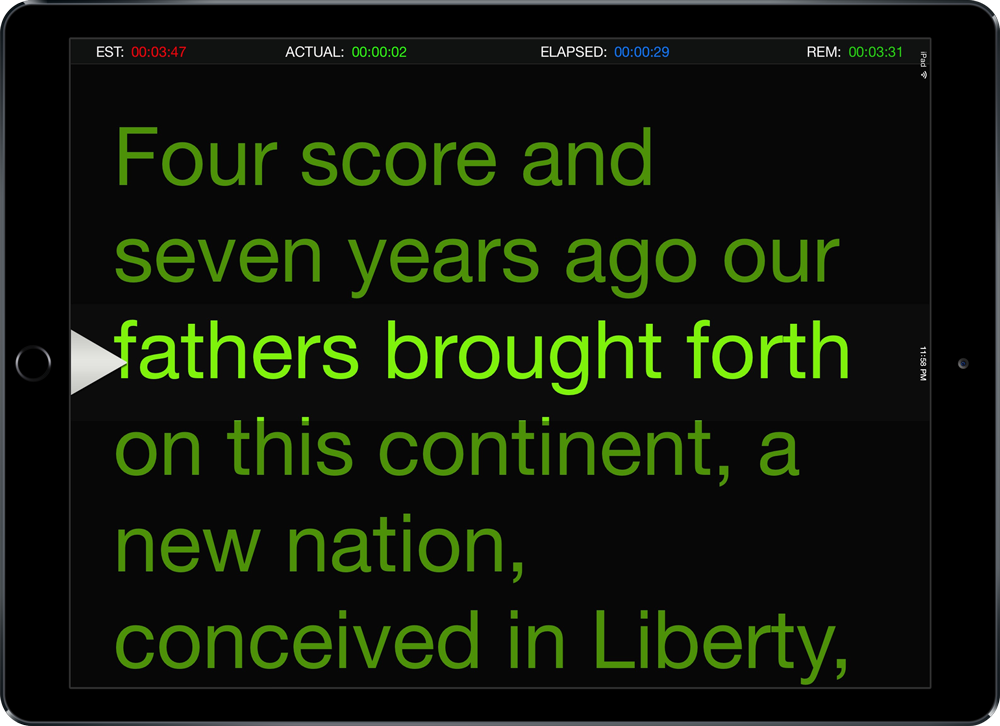 Apple has released iPad Pro, an all-new device with a stunning 12.9-inch screen. Users of both Teleprompt+ and Setlists will be happy to learn that we are hard at work optimizing both of these apps to take advantage of all this new device has to offer.
When it comes to prompting text, bigger is better. This new iPad promises to offer the best Teleprompt+ and Setlists experience yet.
If I buy an iPad Pro today, can I use it with Teleprompt+ or Setlists?
Yes! While taking advantage of the native resolution of the new iPad Pro will take some work on our part, in the meantime, the app works perfectly well in "scaled" mode. That is, the interface will simply scale up to the new resolution. So you can use your Bombing Brain apps just as you always would. When the fully optimized versions arrive before the end of the year, the experience will get even better.
Is there any benefit to using Teleprompt+ or Setlists on iPad Pro before these updates arrive?
Yes! iPad Pro is a really fast and powerful iPad. And the larger screen means text is that much easier to read. Perfect for prompting apps like ours.
Will I need to purchase an upgrade when the new optimized version arrives?
No. Even though this optimization will take a considerable amount of effort, we will be offering it as a free update on the App Store to our existing customers.
Will this new update effect performance on other iPads and iPhones if I decide not to purchase an iPad Pro?
No. While we are focusing on iPad Pro specifically for this update, we continue to fix bugs and address concerns for our customers using all other iOS devices. iPad Pro-specific optimizations will not impact you negatively if you use other devices.
What about that bug I reported? Are you dropping everything to work on nothing but this new device that few of us own?
We are working as hard as we can on all reported issues, not just this iPad Pro optimization. Rest assured, we will continue to work to make the best apps we can for all of our customers.
When will this update arrive?
While we can't make any promises, we do hope to have this update ready to submit to Apple before the end of the year. The update will be subject to Apple's approval process, as always.