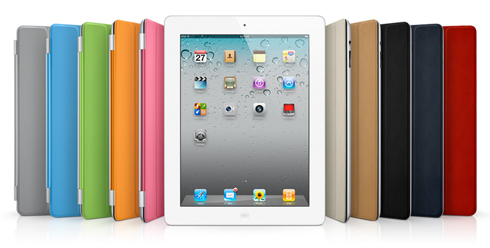 Today Apple announced the iPad 2, the first major upgrade to its revolutionary tablet device. The original iPad's impact cannot be denied. It practically created its own electronics category, and despite much criticism as to its usefulness when it was first announced, it became one of the most successful product launches in history. Today that product has been enhanced in a solid upgrade that delivers on Apple's continued promise to deliver devices that offer the best user experience possible.
As a productive tool, the original iPad has clearly proven its initial critics dead-wrong. Developers were the first to believe in the device's potential, delivering over 700 new iPad-specific apps when the tablet debuted last April. Many of these iPad apps (ours included) were focused on leveraging the advantages of the iPad to get real work done. Today the iPad is breaking new ground and being taken seriously by not only the consuming public, but businesses as well. Large enterprises who are traditionally slow to adopt new technology have embraced the iPad as a cost-effective replacement for aging laptops and low-quality netbooks.
We believe the iPad 2 will continue that trend in 2011, and even offer some significant improvements that we can take advantage of in our own apps. Our flagship product Teleprompt+, a Teleprompter for iPad, will see the most significant impact.
The thinner form factor and reduced weight of the new iPad will continue to improve the appeal of the device as a portable teleprompter. Luckily the height and width have not been altered, and that means that many of the great hardware camera mounts made for the original iPad will still fit the iPad 2. in the next week, we'll be posting links on BombingBrain.com to several of these fine hardware rigs. Keep an eye out for our "recommended hardware" page.
The speed improvements in both the cpu and graphics chips in the new iPad should offer even smoother playback while teleprompting, especially when recording audio simultaneously.
The new Apple Digital AV adapter offers a ton of new options for using and external display or TV as a prompter with Teleprompt+. Previously limited to VGA-only output, the graphics processor in the iPad 2 coupled with this adapter should allow Teleprompt+ to drive a wide array of screens, at full 720p or 1080p resolution.
Those two little cameras on both sides of the new iPad, coupled with iMovie, present a lot of opportunity for on-the-go and budget-conscious video producers. But its not just Apple's built-in apps that will take advantage of those cameras. I'm not going to reveal what we're up to just yet, but I promise you Teleprompt+ will be one of those apps that will be a perfect companion to the new hardware. Look for an update very soon.
On the entertainment side of the house, the new gyroscope should offer increased accuracy in some of the games and educational apps we are working on. Increased graphics and chip performance should greatly improve the loading times and responsiveness of our games, so your children will spend less time waiting and more time engaged, having fun, and learning.
Of course there are things we would like to have seen in the new iPad (higher-resolution "retina" graphics, perhaps more memory), but overall the iPad 2 looks to be everything its predecessor was, plus many excellent improvements. We look forward to picking up our new iPads on the 11th. See you in line!