We love hearing from our users, even if it's just to run a quick idea past us to see what we think. Recently, we got an inquiry about using the AppleTV with Teleprompt+ that we thought we'd address here on the blog, since it was such a good suggestion.
Teleprompt+works great with mirror reflector hardware, and you can always control the Mac or iOS device that's being used in the reflector with another iOS device or Mac. But using the AppleTV to prompt to a larger display is another alternative that may not be so obvious to many.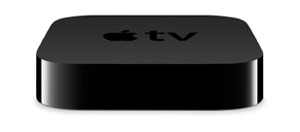 The AppleTV is much more than a box for playing iTunes content. It's also a wireless external display streaming device. Just plug the little $99 box from Apple into an HDTV, or any device that supports HDMI input (or input converted from HDMI to VGA or DVI), and you can prompt right from your iPad using AirPlay to the external display.
And now with the just-released Mountain Lion from Apple, you can use AirPlay from your Mac to your AppleTV, too.[1]
AirPlay is extremely simple to set up. First, follow the instructions from Apple to get the AppleTV plugged into the display device and hooked into your local network. Then, on your iOS device, double click the home button to bring up the recent apps drawer, swipe the drawer to the right, and tap the AirPlay button. Choose your AppleTV, and you're ready to go. The iPad will now broadcast when you start a script to the external display, just as if you had hooked up a display cable. If you're using a Mac running Mountain Lion, find the AirPlay menulette on the top menubar. Click on the name of your AppleTV device, and your Mac will broadcast its content to the AppleTV.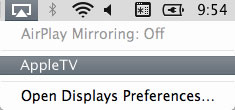 The advantage of using the AppleTV to stream to an external display is that you can control the master prompting device directly. The AppleTV is just a display device, so the master script resides on your controling device. You can make script edits, import new scripts, change colors, etc., in addition to all the usual speed and font size changes you can make when using the Remote software. All without needing another iOS device or Mac.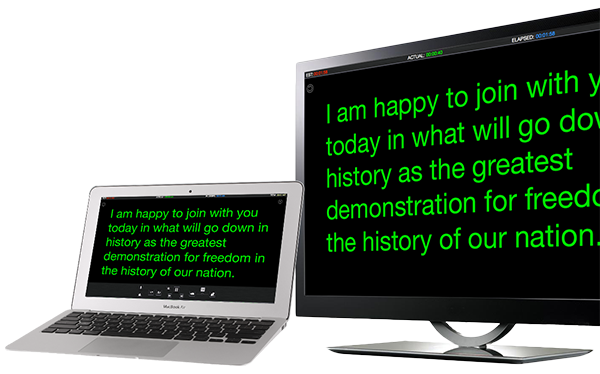 What our user suggested was that with the arrival of AirPlay in Mountain Lion, he plans to switch from using the iPad to using a MacBook Air with AppleTV, because of the added convenience of script editing on the MacBook's full-sized keyboard. Certainly worth considering as an option. If you haven't yet tried Teleprompt+for Mac, it has all the great features you've come to expect from the iPad version. It's available on the Mac App Store.
Thanks to @torresola for the suggestion.
---
AirPlay for Mountain Lion requires a fairly new Mac, due to graphics requirements. Check with Apple to see if your Mac is compatible with AirPlay mirroring before buying an AppleTV for this purpose.  ↩