Bombing Brain has always been a company of musicians. We met through our love of playing music, and our musical connection stays true to this day.
Maybe that's why we've always gravitated towards making products for video and audio professionals. We want to help people who spend their time in the world of multimedia creation. Because we're creative people ourselves.
And thus, we're excited to introduce today a new service called Backdrop.
At backdrop.audio, you will find royalty free music and other audio tracks you can drop into your multimedia projects. Videos, podcasts, apps, live performance pieces—wherever you have a need for some background audio, we can help.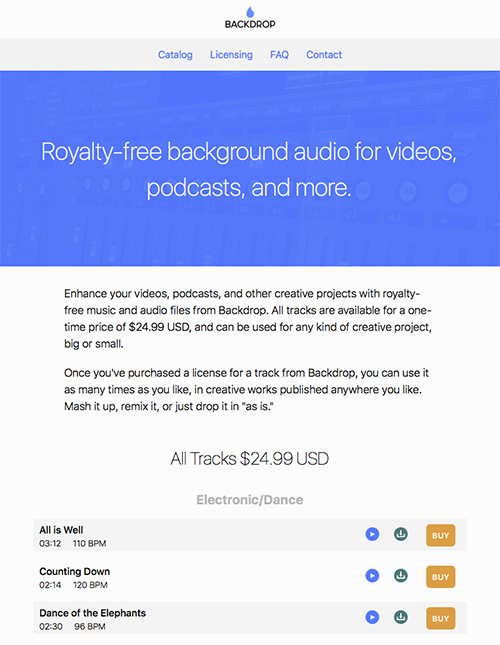 All of the tracks on Backdrop are composed, recorded, and produced in-house by our own artists. The music is original and exclusive to Backdrop—you won't find it anywhere else.
While there are many sources of royalty free music and sound effects in the world, we thought we could bring something fresh and original to the field. Our licensing terms are far more generous than most other sites, with one low price for the use of a track in any sort of production, to be used in just about any way you see fit, for as long as you like. No yearly renewals, no limitations due to the type or size of the production. For more details on our generous licensing terms, visit our licensing page.
Preview 30 seconds of any track for free, and even download a short sample to drop into your project to hear how it fits in. Once you're ready to buy a license, click the BUY button, fill in some payment details, and a full-length, high-quality file will download automatically. A link will also be sent to you in case you need to download the track again in the future.
Our catalog is starting small, because we are crafting these tracks ourselves with care. But new tracks will be added frequently as we grow. We hope to expand our genres over time as well. If you have any requests for a particular style of music or other background audio, feel free to contact us. We will accommodate wherever we can.
Our composers are also available to create a bespoke track just for you. If you have a need for original music that is unique, you can request a quote from us. We have composed music for several videos, apps, and podcasts, and we're happy to work with you.
Visit backdrop.audio today and check out our catalog.